Pony Club Riding Center Program
Carlisle Academy is honored to be named a United States Pony Club Riding Center within the Northeast Region. Pony Club is one of the leading equestrian organizations in the world and offers the motivated rider access to internationally-recognized mounted and unmounted horsemanship curricula. Through a series of standards and the Pony Club rating system, along with sanctioned horse shows and rallies, Pony Clubbers receive quality instruction and access to various disciplines of their choice such as dressage, eventing, vaulting, and hunter-jumper. Additionally, the youth and adults involved in our Pony Club Program have the opportunity to take on service-learning apprenticeships at the Academy, helping in the Therapy Program as sidewalkers, lesson assistants, and equine assistants. Participants must be age and ability eligible and maintain a national and regional membership in order to participate in Carlisle's Pony Club program.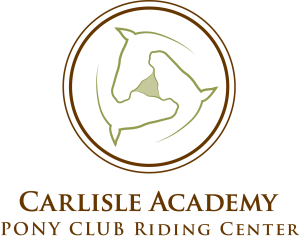 The Pony Club mission to, "develop character, leadership, confidence and a sense of community in youth through a program that teaches the care of horses and ponies, riding and mounted sports." Core values include:
Horsemanship with respect to healthcare, nutrition, stable management, handling and riding a mount safely, correctly and with confidence.
Organized teamwork including cooperation, communication, responsibility, leadership, mentoring, teaching and fostering a supportive yet competitive environment.
Respect for the horse and self through horsemanship; for land through land conservation; and for others through service and teamwork.
Service by providing an opportunity for members, parents, and others to support the Pony Club program locally, regionally and nationally through volunteerism.
Education at an individual pace to achieve personal goals and expand knowledge through teaching others.
PONY CLUB YOUTH PROGRAM is open to eligible youth ages 7-25 and is offered within Carlisle's ongoing season. The program takes place at the Academy and is led by Carlisle's nationally certified teaching staff. Youth Pony Club will meet on Saturdays for stable management instruction and mounted lessons, and may include guest instructors, games, and exploring other equestrian sport tracks. Participants may truck in their own horses as well as have access to Carlisle lesson horses. Pony Clubbers may also choose to pursue offsite competitions at PC rallies and shows. Additional competition and entry fees may apply.

Fees & Enrollment Options:
Pony Club participants must enroll in atleast three out of the four sessions within the year to be eligible for Carlisle's Pony Club program.
Pony Club members are eligible for a 10% discount on all Carlisle clinician lessons, as well as free auditing.
National and Regional Pony Club membership fees are not included and must be current in order for members to participate. Regional dues are $15 per person annually, while  National Pony Club fees are $120-$140 depending upon first time or renewal fees.
$55 – Mounted & Unmounted Combined: Saturdays, 9:00-2:00
$30 – Unmounted Only: Saturdays 9:00-12:00 (must take private lessons on one's own)
$40 – Supervised Lease ride
$500 – Supervised Lease package (2 lease rides per week, plus full Saturday PC enrollment)
SUPERVISED HORSE LEASE: Leases are for approved PC riders only, and ride times must be prescheduled. These rides provide pony clubbers with an opportunity to ride independently, using the time to practice, prepare for rallies, ride with friends, or simply ride for fun.
Use of tack and grooming equipment is included.  General staff supervision is provided on the premises. Riders can choose between singular rides weekly, scheduling as they go, or a lease package which includes 2 weekly lease rides, plus full PC Saturday enrollment.
Please visit www.ponyclub.org for more information or contact Carlisle Academy's Center Administrator Sarah Armentrout.