Sport Rider Conditioning, Education & Consults
Private or Group Stretching & Strengthening Session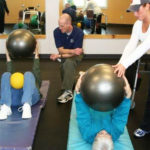 Carlisle's licensed Physical Therapist works with athletes on and off the horse, providing stretching and strengthening exercises designed to improve mounted skills and rider readiness. Please note 30 minute sessions can be arranged before the lesson, schedule permitting.
OT/PT Consults for Athletes
Carlisle's Physical and Occupational Therapists are trained to understand the unique needs of riders with disabilities. These therapists can provide athletes with information on assistive technology, adaptive equipment, personal care assessments, and stretching and strengthening strategies that will improve one's ability to ride and compete. Please note the 2 hours includes direct time and written report.
Horse Management Classes – Unmounted Education (CEU's available)

These classes are offered monthly for 1.5 hours to provide education in a variety of equine and stable management topics which follow the U.S. Pony Club and British Horse Society curricula. Topics include: Equine Conditioning, Nutrition, First Aid, Breeds, Trimming & Shoeing, Stable Management, Movement & Lameness Evaluation, Tack Fit, & Trailer Safety.
Download the Horse Management Flyer for dates and more information.