SCHOOL/AGENCY THERAPY GROUPS
SCHOOL/AGENCY THERAPY GROUPS – 1.5 Hours (up to 6 participants)
Equine-Facilitated Therapy Groups are developed and led by Carlisle's credentialed therapists and supported by our nationally certified therapeutic riding instructors and professional horse handlers. Participants rotate through stations of mounted therapy, clinic or farm-based activities. Carlisle has several contracts with schools, hospitals and residential facilities working with children and adults challenged with developmental and acquired disabilities to address a variety of needs including developmental sensory processing, neuro-motor and corestrength issues, and life-skills enhancement.
All Equine-Facilitated Therapy Groups are eligible for Carlisle Charitable Foundation scholarships. Application is necessary. For more information visit www.carlislecharitablefoundation.org.
Equine-Assisted Activities & Therapies Used in Group Services:
The various equine-assisted activities and therapies are used in these Equine-Facilitated Therapy Groups led by credentialed therapists, and supported by PATH & CHA instructors.
ADAPTIVE HORSEMANSHIP teaches adaptive riding skills for educational and therapeutic purposes. These activities help with balance, coordination, self-confidence, attention, communication, and emotional well-being.
ADAPTIVE CARRIAGE DRIVING teaches adaptive driving skills for educational and therapeutic purposes. It is a fun and engaging alternative to riding that can address balance, core strength, and cognitive skills.
HIPPOTHERAPY is mounted Physical, Occupational, or Speech Therapy using the back, movement, and gaits of the horse to facilitate development and rehabilitation. Used as a medical treatment strategy prescribed by physicians and conducted by licensed therapists trained as specialists, hippotherapy can improve range of motion, gait, core stability, balance, motor control, sensory processing, and emotional modulation. For more information on Hippotherapy, click here.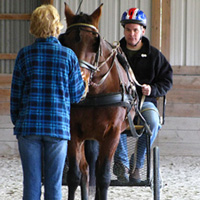 As part of
PATH's Equine Services for Heroes
, Carlisle Academy serves disabled veterans injured in mind, body or spirit. Veterans are offered an opportunity to learn or rediscover equestrian sports or simply enjoy a bonding relationship with a horse, creating a positive outlook and improved wellbeing. Disabled veterans may participate in any of our Adaptive Equestrian Sports, Para-Equestrian Sports, Equine-Facilitated Wellness Groups, or recreational riding. Full funding is available.
Learn more about Carlisle Academy's Veterans Program.