Therapy Program Info & Enrollment
Healing, Rehabilitation & Research
Carlisle Academy is a Premier Accredited Center of the Professional Association of Therapeutic Horsemanship, International (PATH, Intl.) providing safe and therapeutically beneficial programs to a broad population with a variety of needs. Our Clinical Therapy Programs are staffed by some of the highest credentialed professionals in the field, including Hippotherapy Clinical Specialists, PATH, Intl. certified instructors, skilled horse handlers, and clinical interns from universities around the United States. Individuals diagnosed with physical, cognitive and emotional disabilities are impacted by equine-facilitated therapies and activities in myriad ways.
As part of our Core Values…
We believe in the power of the horse to teach, inspire, and heal while providing a unique movement and presence that can be scientifically demonstrated to benefit a person's functional health and resiliency.
Program Options
Hippotherapy & Clinic-Based PT/OTEquine-Facilitated Therapy & Wellness Groups
Therapy Programs Tuition Sheet
Hours of Operation/Season
Therapy Program Days: Tuesday, Wednesday, Thursday 9-6
See the current calendar for specific dates.

Therapy Program Eligibility & Enrollment Process
Any person diagnosed with an emotional, physical, or cognitive disability from age 2 years and up is eligible to apply for enrollment in one of Carlisle Academy's Therapy programs. Students younger than 2 years with disabilities may enroll in our pre-hippotherapy program.
There are additional steps that students must meet before we can enroll them in our program.
The first step is to contact the Program Director at Carlisle Academy to discuss space availability and program suitability (207-985-0374, info@carlisleacademymaine.com).
The Program Director determines eligibility and assists the necessary paperwork including insurance benefits and other funding resources as needed, including scholarships through our charitable partner, the Carlisle Charitable Foundation.
An intake and evaluation meeting will be scheduled with Carlisle staff to establish an individualized plan of care.
Once the enrollment material is completed and the medical paperwork has been reviewed, the student is enrolled in an upcoming session or placed on a waiting list. No student may begin at Carlisle until the necessary paperwork is received.
Enrollment midway through a session is considered on a case-by-case basis.
Additional considerations:
Enrollment midway through a session is considered on a case-by-case basis.
For the health of our horses and the safety of our riders and side walkers, we generally do not accommodate riders in excess of 200 lbs. in mounted sessions. Alternative means of interaction with horses, such as grooming or adaptive carriage driving, will be recommended for individuals who would still like to participate in an equine-facilitated activity.
Students with specific treatment plans that include specialized emergency procedures, medical prescriptions, or actions to be taken around behavioral issues, must have a parent/caregiver accompany them to each session at Carlisle.
Some students may be difficult to provide services for because of a physical, mental or behavioral challenge that scares or threatens those around them, most especially the horses. Carlisle staff will attempt to create the best student, horse, staff and sidewalker combinations possible. Carlisle reserves the right to deny or remove a student from a therapy session if their actions jeopardize the safety of the horses, staff, or him/herself.
Begin Enrollment
Please, read the following information carefully, and contact our office if you have any questions.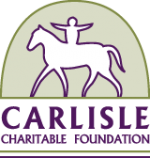 A Word About Our Charitable Partner
Carlisle Charitable Foundation, the Academy's philanthropic partner, is an independently governed 501(c)(3) organization. The Foundation's mission is to raise scholarships for students with special needs who participate at Carlisle Academy.
For more information: www.carlislecharitablefoundation.org