Hippotherapy & Clinic-Based PT/OT
Private Hippotherapy – 45 minutes
One client receives direct treatment time with one physical or occupational therapist, depending upon the client's needs. Time is divided between 15 minutes of unmounted treatment and 30 minutes of treatment on the horse.
Semi-Private Hippotherapy – 1 hour
Two clients receive direct treatment time with one physical or occupational therapist, depending upon each client's needs. Time is divided between 30 minutes of unmounted treatment and 30 minutes of treatment with each client on their own horse.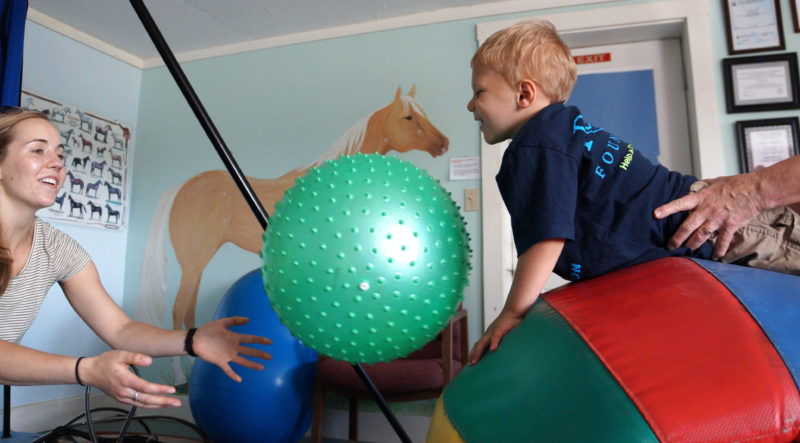 CLIENT/ATHLETE ASSESSMENT WITH A PHYSICAL OR OCCUPATIONAL THERAPIST
Carlisle's Physical and Occupational Therapists are trained to understand the unique needs of clients and athletes with disabilities. These therapists can provide information on individual treatment designed to improve function and mobility, offer assistive technology, adaptive equipment, personal care assessments, as well as stretching and strengthening strategies to improve one's ability to ride and/or compete.
---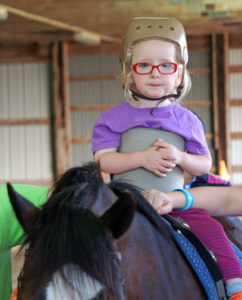 *The American Hippotherapy Association has defined Hippotherapy as a term that "refers to how occupational therapy, physical therapy, and speech-language pathology professionals use evidence-based practice and clinical reasoning in the purposeful manipulation of equine movement to engage sensory, neuromotor, and cognitive systems to achieve functional outcomes. In conjunction with the affordances of the equine environment and other treatment strategies, hippotherapy is part of a patient's integrated plan of care."
APTA (American Physical Therapy Association), AOTA (American Occupational Therapy Association), and ASHA (American Speech and Hearing Association) all accept and endorse Hippotherapy as a treatment strategy. Please visit www.americanhippotherapyassociation.org for updated research, to review AOTA and APTA endorsements, and the glossary of terms.
Learn more about Hippotherapy here.
"I think that horseback riding is probably the most perfect form of occupational therapy, as it demonstrates the integration of body, mind and spirit. A person on a horse is in the best possible body position to encourage development of normal muscle tone, balance and coordination. The horse's movement reinforces this, as well as improves the rider's attention span. The rider forms an emotional attachment with the horse and becomes empowered when she learns she can communicate nonverbally with the horse and it will respond to her directions. It's a maximal set up for success, and all of it carries over to improve other aspects of a person's life." 
- Judith G. Kimball, PhD, OTR/L, FAOTA
A note about Private Insurance Reimbursement:
Hippotherapy and Clinic-Based PT/OT services at Carlisle Academy may be considered an out-of-network covered service by some major insurance companies. We have broken out the fees of each 30-minute component to aid families in the reimbursement process. Please call the Director of Therapy Programs for more information on insurance coverage and case management support in funding hippotherapy.
Equine-Assisted Activities & Therapies benefit individuals challenged with:
ADD/ADHD
Age-related Issues
Autism
Behavioral & Emotional Disabilities
Brain Injury
Cerebral Palsy
Developmental & Learning Disabilities
Down syndrome
Cognitive Delays
Mental Health
Multiple Sclerosis
Seizure Disorder
Spinal Cord Injury
Stroke
Visual Impairment