Short Courses & Professional Mentorships
Carlisle Academy offers professional development resources for equine therapy and sports professionals and practitioners, as well as ongoing clinics to equestrian enthusiasts. By hosting educational events and workshops for organizations such as PATH Intl. and AHA, and offering our own training programs, Carlisle supports individuals pursuing their riding goals, satisfying continuing education hours, or advancing their personal and professional development.
Upon successful achievement, participants receive a Carlisle Academy Certificate of Completion and Performance Evaluation. Application, tuition and interview process is required. All internships are tuition-based programs.
Horse Handler Training Course – 2 Day
Carlisle Academy is one of the few therapeutic riding centers that uses professional, paid horse handlers to manage horses in adaptive and hippotherapy sessions. Employing trained horse handlers ensures the highest possible standards of safety and consistency for horses and riders, which ultimately leads to improved outcomes. Our Horse Handling Training Course benefits anyone interested in the equine industry, particularly those interested in becoming a horse handler in therapeutic/adaptive settings. The course is taught by Carlisle Academy's Horse Captain as well as Carlisle's staff horse handlers who have additional instructor certifications through CHA or PATH, Intl. The course covers topics including horsemanship, equine care, ground driving, long lining, ring etiquette, equine training and conditioning, communication, and documentation.
2017 Course Dates – 2-Day Intensive
Monday, March 20 – Tuesday, March 21
Monday, August 7 – Tuesday, August 8
Download the course flyer.
For more information please contact Sarah Armentrout at sarmentrout@carlisleacademymaine.com or 207-985-0374.
Equine Business Development Course – 2 Day
Carlisle Academy has a unique business model as an integrated riding school, utilizing a for-profit financial structure with non-profit partnerships. Clearly articulated core values are key to a successful mission and a sustainable enterprise. This course is designed for the professional who wants to further develop their equine therapy and/or sports business by evaluating organizational structures, program design, looking at cost/benefit analysis and financial systems, and finding that "sweet spot" in any unique EAAT business that is not volume driven but value driven.
Mentoring for Therapists
– 1 Week or 1 Month options
Carlisle Academy's mentoring program is designed to provide education to Physical and Occupational Therapists in the use of hippotherapy as a treatment strategy. Mentorships can be designed to meet to discrete professional needs. Carlisle Academy's therapists work with children as young as 18 months through the age continuum. Carlisle Academy therapists are Hippotherapy Clinical Specialists credentialed through the American Hippotherapy Certification Board. They use a number of traditional treatment strategies (Sensory Processing, Dynamical Systems Theory, NDT, etc.) while treating people with neuromuscular, orthopedic and sensory processing issues. Participants are seen in either private therapy sessions (60 minutes) using mounted and unmounted strategies or Equine Facilitated Wellness Therapy or Wellness groups of up to 4 participants. These groups are led by our therapists and assisted by our PATH, Intl certified instructors and follow age specific curricula designed by our therapists. Participants will have an opportunity to participate in both programs, observe our assessments, clinical observations, plan development and documentation. Mentored Occupational Therapists will have an opportunity to learn about our wellness program that addresses the needs associated with addiction recovery and PTS associated with developmental and/or acquired trauma. In addition, all participants will learn about Carlisle Academy's exceptional care and handling program for our therapy equines; the basis of exceptional therapy outcomes.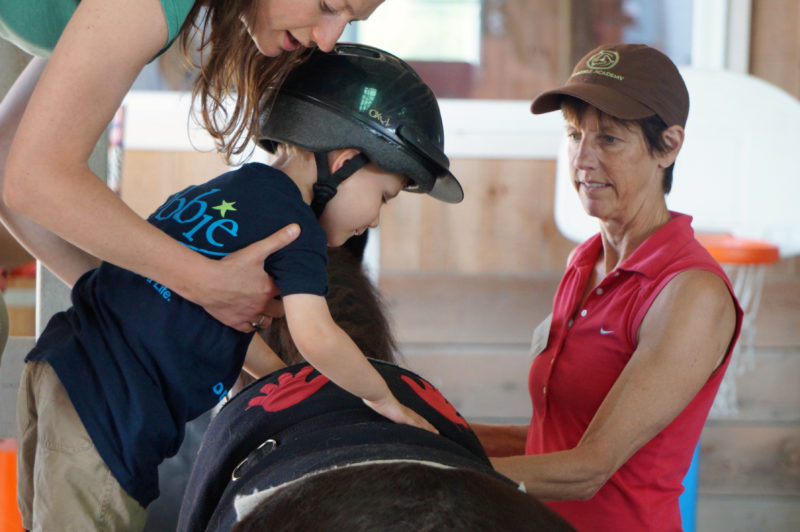 Mentoring for Therapeutic Riding Instructor

– Customized Timeframe
For individuals pursuing PATH certification to become a Therapeutic Riding Instructor at the registered level, Carlisle Academy has developed a Mentor Program designed to support the PATH candidate's required 25 hours of teaching. The course covers topics including horsemanship, teaching methodology, disabilities overview, peer-review, and student documentation.