The Therapy Center is Carlisle Academy's heritage program and valued community asset, operating as a PATH, International Premier Accredited Center for over two decades and serving hundreds of families in southern Maine and seacoast New Hampshire.
Our hippotherapy, adaptive equestrian sports, equine-assisted learning and farm-based programs have science and education-backed outcomes with therapeutic benefit impacting broad populations of individuals with special needs. The philosophy of the Therapy Center follows a whole person approach to health and healing and we use the natural farm setting to enhance our work. Carlisle's clinical and educational team has some of the highest credentialing in the field and operates as an interprofessional unit for optimal gains. Our service-learning program promotes volunteerism with education through our Apprentice Program, as community members assist with sidewalking and equine support.
The Therapy Center has the added benefit of partnering with universities around the country, such as the University of New England, University of New Hampshire, University of Maine, and the University of Tennessee, in our Professional Education initiatives to provide college-level course work and certificates and to enable graduate level occupational therapy students to participate onsite for 12 weeks of academic fieldwork credit and/or capstone research.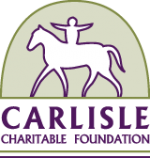 Lastly, all of this work would not be possible without Carlisle Charitable Foundation, our philanthropic partner, which works independently to support the Therapy Center's charitable and educational programs and the horses who are the life-force of these services. It is with this spirit of inclusion that the Academy looks to the future to continue hosting an integrated community, bringing the joy of horses to people's lives and achieving a variety of therapeutic goals.
Please read visit each page below for more program detail and access to enrollment information.
All programs are separated by individual goals and delivery models (mounted, ground-based, farm-based, clinic-based), the level of assistance required, and differentiated by the type of practitioner (therapist, instructor) delivering the service. Program Fees are commensurate with the resources required to deliver the service.
For more information, contact the office at 207-985-0374, or email your inquiry to info@carlisleacademymaine.com.