Carlisle Academy's Therapy Center offers Physical and Occupational Therapy Services using equine movement, also known as Hippotherapy. Operating since 1998, Carlisle is a Premier Accredited Center of the Professional Association of Therapeutic Horsemanship, International (PATH, Intl.) and a member of the American Hippotherapy Association, and is the only accredited program of its kind in Maine offering direct clinical treatment utilizing equine movement as a safe and innovative therapeutic intervention.
Carlisle's team is staffed with the highest credentialed occupational and physical therapists in the field, Board-Certified Hippotherapy Clinical Specialists (HPCS) who, together with skilled horse handlers and clinical interns, work to improve functional skills for a broad population of individuals with special needs. Our therapists provide an intake and evaluation to determine the eligibility for this clinical program, and treatment takes place on the back of a horse as well as in a therapy clinic.
HIPPOTHERAPY
*The American Hippotherapy Association has defined Hippotherapy as a term that "refers to how occupational therapy, physical therapy, and speech-language pathology professionals use evidence-based practice and clinical reasoning in the purposeful manipulation of equine movement to engage sensory, neuromotor, and cognitive systems to achieve functional outcomes. In conjunction with the affordances of the equine environment and other treatment strategies, hippotherapy is part of a patient's integrated plan of care."
APTA (American Physical Therapy Association), AOTA (American Occupational Therapy Association), and ASHA (American Speech and Hearing Association) all accept and endorse Hippotherapy as a treatment strategy. Please visit www.americanhippotherapyassociation.org for updated research, to review AOTA and APTA endorsements, and the glossary of terms.
PROGRAM BENEFITS:
improved mobility and range of motion
strengthened core stability and coordination
greater self-regulation and sensory integration
enhanced functional skills of daily living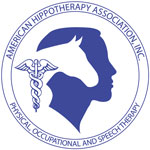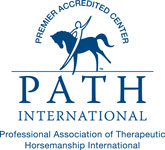 "I think that horseback riding is probably the most perfect form of occupational therapy, as it demonstrates the integration of body, mind and spirit. A person on a horse is in the best possible body position to encourage development of normal muscle tone, balance and coordination. The horse's movement reinforces this, as well as improves the rider's attention span. The rider forms an emotional attachment with the horse and becomes empowered when she learns she can communicate nonverbally with the horse and it will respond to her directions. It's a maximal set up for success, and all of it carries over to improve other aspects of a person's life."

– Judith G. Kimball, PhD, OTR/L, FAOTA
Program Offerings
CLIENT/ATHLETE ASSESSMENT WITH A PHYSICAL OR OCCUPATIONAL THERAPIST
Carlisle's Physical and Occupational Therapists are trained to understand the unique needs of clients and athletes with disabilities. These therapists can provide information on individual treatment designed to improve function and mobility, offer assistive technology, adaptive equipment, personal care assessments, as well as stretching and strengthening strategies to improve one's ability to ride and/or compete.
Private Hippotherapy
One client receives direct treatment time with one physical or occupational therapist, depending upon the client's needs. A 30-minute private session is on the horse only. A 1-hour private session is divided between 30 minutes of unmounted treatment in the therapy room and 30 minutes of treatment on the horse. (At this time, during the pandemic, we are not offering inside therapy room treatment with the 1 hour option).
Semi-Private Hippotherapy
Two clients receive direct treatment time with one physical or occupational therapist, depending upon each client's needs. Time is divided between 30 minutes of unmounted treatment and 30 minutes of treatment with each client on their own horse.
SCHOOL/AGENCY THERAPY GROUPS
Equine-Facilitated Therapy Groups are developed and led by Carlisle's credentialed therapists and supported by our nationally certified therapeutic riding instructors and professional horse handlers. Participants rotate through stations of mounted therapy, clinic or farm-based activities for 1.5 hours. Carlisle has several contracts with schools, hospitals and residential facilities working with children and adults with developmental and acquired disabilities to address a variety of needs including sensory processing, neuro-motor and core strength issues, and life-skills enhancement.
For more information, contact the office at 207-985-0374, or email your inquiry to info@carlisleacademymaine.com.