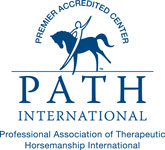 Carlisle Academy is a Premier Accredited Center of the Professional Association of Therapeutic Horsemanship, International (PATH, Intl.) offering mental health and wellness opportunities in addition to hippotherapy. These are ground-based (unmounted) equine-facilitated learning programs, supported by occupational therapists and co-facilitated by PATH, International instructors and professional horse handlers. We use the tranquil farm environment to create a sensory-rich learning experience where all participants can benefit from this respite and enrichment. Additionally, traditional and adaptive yoga programs have been added in our new farm studio/classroom to complement these wellness programs.
Intended for:
Veterans, seniors, vulnerable youth, men and women recovering from addiction/PTSD, and health care workers healing from the front lines of the pandemic.
Equine-Facilitated WELLNESS GROUPS
Horses are masters of communication as they provide immediate, non-judgmental, and honest feedback. Individuals and groups participate in ground-based, trust-building exercises with horses that enhance overall wellness and personal growth. Participants may sign up individually (1 hour) or be scheduled to attend with an agency or school group (2 hours, Max 10 people) and both involve working with a horse on the ground with an instructor doing liberty work in the roundpen, leading exercises, herd observation, and grooming.
---
Equine GROOMING PROGRAM
Some participants, such as seniors or participants who are unable to ride or do ground-based programs, choose to engage in a grooming-only program. Participants bond with horses through supervised grooming sessions focusing on basic grooming techniques while being present and mindful of the contact and sensory communication with the horse. Participants may sign up individually (45 Min) or be scheduled to attend with an agency or school group (1 hour, Max 6 people).
---
WORKING FARMSCAPE – Wellness WORKSHOPS for Veterans
Carlisle Academy operates out of Spring Creek Farm, a 150 acre working crop and livestock farm, comprised of hayfields, pastures and an active wood lot. The Working Farmscape Program is designed for a small group of Veterans to attend three Saturday workshops each in the Spring, Summer, and Fall to gain exposure to the everyday management of a working farm. Holistic and regenerative farming using tractor and draft horse-power provides viable agricultural models and helps us connect to the land and one another in a purposeful, authentic way. Over the course of a 5-hour workshop, participants will have the opportunity to help harvest hay, spread compost, rotationally graze sheep, perform numerous maintenance tasks, and extract fire and pulpwood from our woodlot. Participants also receive ground-based education in livestock handling to better understand animal temperament, non-verbal communication, and trust. This is a sponsored program and is tuition-free for both active duty military and Veterans. Space is limited.
Please see here for 2020 dates and more detail.
Please see here to read a review of the 2019 Pilot Program.
For more information, contact the office at 207-985-0374, or email your inquiry to info@carlisleacademymaine.com.