Our Service-Learning Program (SLP) offers community members a valuable educational exchange based on a service-learning model. There are three types of Service Learning: Program Aide, Barn Assistant & Horse Handler. We safely place and train participants into designated roles according to their interests and abilities. In return for a commitment to service, we offer enriching benefits which include:
Approved community service hours for high school/college
Access to an equine learning community and field professionals
Access to free auditing to any Carlisle Academy clinics (Para-Equestrian, Dressage, Eventing, & Horsemanship)
Access to discounted lessons (see details below)
To apply for the Service-Learning Program, individuals must be at least 14 years old (Barn Assistant), at least 16 years old (Horse Handler), at least 18 years old (Program Aide) and complete an application packet. Participants will need to go through an assessment by Carlisle Academy Staff to determine program eligibility and readiness. After acceptance into this program, individuals attend a mandatory training taught by Carlisle Academy staff.
Sidewalker:
The primary role of a Sidewalker is assisting clients in our partner Hippotherapy program with Play and Prosper Therapy PLLC. Sidewalkers walk next to clients, as young as two years old, during the lesson and offer varying levels of physical support as needed.  
Eligibility includes:
must be 14 years old or older
2 hours minimum weekly commitment
Sidewalker training module (2 hours)
Walk/jogging ability
Ability to follow 3 stepped directions
Reliable, punctual and solid communication skills
BARN ASSISTANT:
The primary role of a barn assistant is to assist the farm staff with morning chores. Schedules can vary so arranging a set weekly time with the farm staff is important. Chores could include minimal stall cleaning, scrubbing buckets, sweeping aisles, and cleaning tack.
Eligibility includes:
must be 14 years old or older
1 hours minimum per week commitment
Be able to function independently and follow basic directions safely and responsibly or be accompanied by a coach/aide to assist with duties.
Program Aide
The primary role of a Program Aide is to assist the instructor or therapist with the health and wellness program activities. This may include arena or classroom setup and breakdown, as well as general assistance for participants.
Eligibility includes:
must be 18 years old or older
2 hours minimum per week commitment
Ability to effectively lead and manage up to 2 children
Physical capacity to ambulate on uneven services and lift up to 25 pounds
Backgrounds in health and/or education are desirable but not required
HORSE HANDLER:
The primary role of a Horse Handler is to assist with equine warmups prior to lesson time, including fetching and releasing horses prior to and after warmups or a lesson, grooming and tacking, leading or holding horses if needed for a beginner lesson, and horse stretches after the workday. Horse Handlers may also be asked to prepare or breakdown an arena for a lesson, clean barn aisle, tack and tack area, and record documentation related to horse use or activity assigned.
Eligibility includes:
must be 16 years old or older
4 hours minimum per week commitment
Possess intermediate level of horsemanship
Possess the ability to safely and effectively exercise select horses for warmups, while showing proficiency in walk, trot, and canter and putting the horse on the aids
Excellent time management and work organization skills
Complete Carlisle Academy's Horse Handler Training Course
Must be enrolled in at least once weekly lesson at Carlisle for continual learning. For every lesson package of 6 purchased, participants receive the 7th lesson free of charge (provided SLP participant is active during the season in which lessons occur).
Download the SLP Application Packet »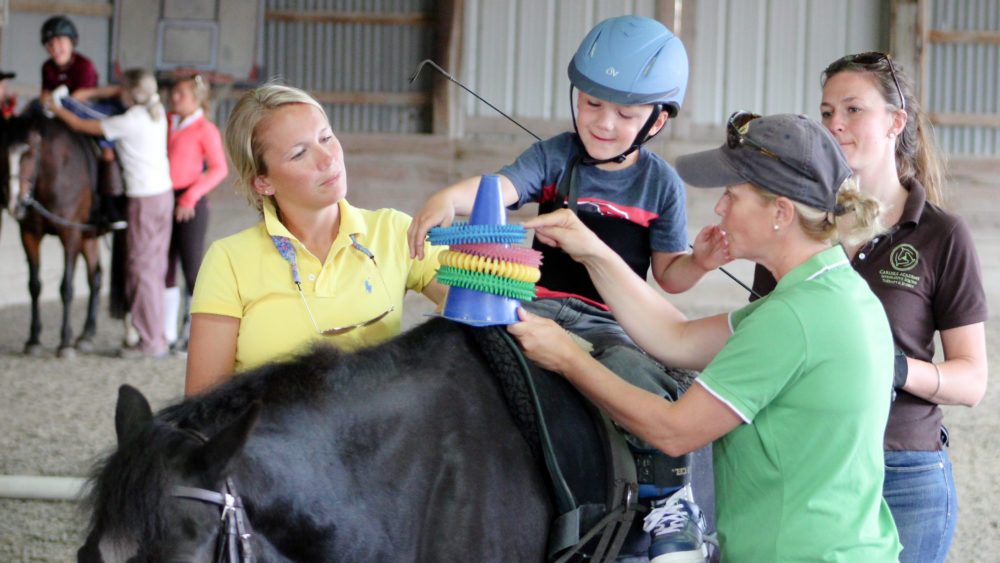 For more information, contact the office at 207-985-0374, or email your inquiry to Alissa Luckey at aluckey@carlisleacademymaine.com.