Carlisle Academy is honored to be named a United States Pony Club Riding Center. Pony Club is a leading equestrian organization and offers the motivated rider access to internationally-recognized mounted and unmounted horsemanship curricula following Pony Club standards of proficiencies.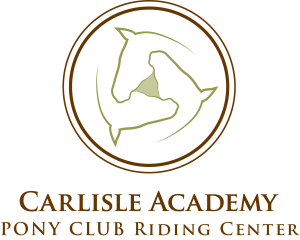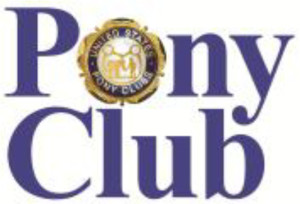 The Pony Club mission to, "develop character, leadership, confidence and a sense of community in youth through a program that teaches the care of horses and ponies, riding and mounted sports." Core values include:
Horsemanship with respect to healthcare, nutrition, stable management, handling and riding a mount safely, correctly and with confidence.
Organized teamwork including cooperation, communication, responsibility, leadership, mentoring, teaching and fostering a supportive yet competitive environment.
Respect for the horse and self through horsemanship; for land through land conservation; and for others through service and teamwork.
Service by providing an opportunity for members, parents, and others to support the Pony Club program locally, regionally and nationally through volunteerism.
Education at an individual pace to achieve personal goals and expand knowledge through teaching others.
TRADITIONAL PONY CLUB YOUTH PROGRAM
The Traditional Pony Club Youth Program is the foundation of the Pony Club experience. It is offered year-round and is open to youth ages 9-18. All programs take place at the Academy and are led by Carlisle's nationally certified teaching staff. Pony Club meets monthly for horse management unmounted instruction, following the PC standards of proficiency which address each certification level. Though not a requirement, members are generally enrolled in Carlisle's weekly lesson program where PC mounted standards of proficiency are addressed. Additionally, weekend Pony Club instructional clinics with guest clinicians will be held throughout the year. Through the Pony Club certification system, along with sanctioned rallies, members receive quality instruction and access to various disciplines of their choice such as dressage, eventing, and hunter seat equitation. In addition to providing a solid foundation of equine skills, the Pony Club experience emphasizes personal growth and the development of citizenship and life skills. Participants may use their own horses or use Carlisle's lesson horses. Members may choose to pursue PC rallies and certifications at their own pace. U.S. Pony Club national and regional memberships are required. Download more details and pricing for this program.
Little Boots Program
The Little Boots is designed for the young equestrian, ages 4-8, as an introduction to horse care and the unmounted horse management education which is foundational for the Pony Club standards. At this stage, age-appropriate games/skills, safety and fun are at the center of all activity. Participants attend 10 monthly unmounted meetings and are assisted by the upper level PC members and a Carlisle instructor. Additionally, participants may take scheduled lessons at their own pace. This is a pre Pony Club program promoting the Pony Club curriculum and its values. U.S. Pony Club national and regional memberships are not required. Download details and pricing for this program.
Adaptive Pony Club
Adaptive Pony Club is open to riders of all ages and abilities who may require extra support and a modified curriculum of the traditional Pony Club standards. This program maintains an emphasis on graduating through proficiency levels in horse management education, and riders have the option to participate in the Equestrian Center's community lesson program or the Therapy Center's Adaptive Equestrian Sports program depending upon the level of support needed. There are 8 monthly unmounted meetings running from March to October that dovetail with Little Boots and the Traditional Pony Club, promoting inclusion and assistance from upper-level pony clubbers, as well as self-paced options to achieve Pony Club certifications. Carlisle Academy is a recognized Pony Club Riding Center, allowing us to offer a center-level program and a modified curriculum without the requisite national and regional dues. Please see flyer for details here.
For more information, contact the office at 207-985-0374, or email your inquiry to info@carlisleacademymaine.com.
Read a press piece by the Kennebunk Post on Carlisle's Pony Club Program