Engagement opportunities to develop healthy work cultures and adaptable individuals.
Leadership Development Experiences are designed for leadership teams and individual professionals seeking a grounding and unique interaction with horses that will enhance workplace dynamics, increase critical soft skills, and develop social-emotional wellness.. All retreats are led by certified professional facilitators who specialize in equine-assisted learning leadership and organizational development.
HOW IT WORKS
Pre-program consultation is included to maximize positive outcomes for individuals and teams. Interactions between the participants and horses are designed to simulate the types of interpersonal situations found in life or at the workplace. The goal of each activity is to work as a cohesive group to guide horses through a challenging predicament.
As the participants interact with the horses (and each other), challenges and solutions emerge which are discussed in facilitated debrief sessions.
All workshops begin with an overview of safety, the basics of horse communication, equipment use, and an introduction to the sequence and structure of activities. Activities are approximately 30 minutes long followed by a debrief session.
Timeframe: Groups can choose a short format for a 2-hour event or a longer 4-hour format with farm picnic included. The cost is $150 for 2 hours; $250 for 4 hours per person. Typical group size ranges from 6-10 people.
NO HORSE EXPERIENCE REQUIRED
All workshops focus on the human/horse interaction and not on acquiring or practicing horsemanship skills. There is no horseback riding in the workshops. All activities are conducted on the ground.
WHAT TO EXPECT
Unique learning partners and a differentiated environment which will help your group to:
Improve collaboration, trust and team cohesion
Foster creative problem solving and adaptability
Enhance the critical soft skills so important in the workplace
Maximize health and wellness goals through nature and animal connection
Watch the staff from Carlisle Academy as they work through the "Leadership in a Box" activity. Observe their use of body language and nonverbal communication as they move horses into a "box" of ground poles. This is one of the challenges teams undertake in a one-day teambuilding event.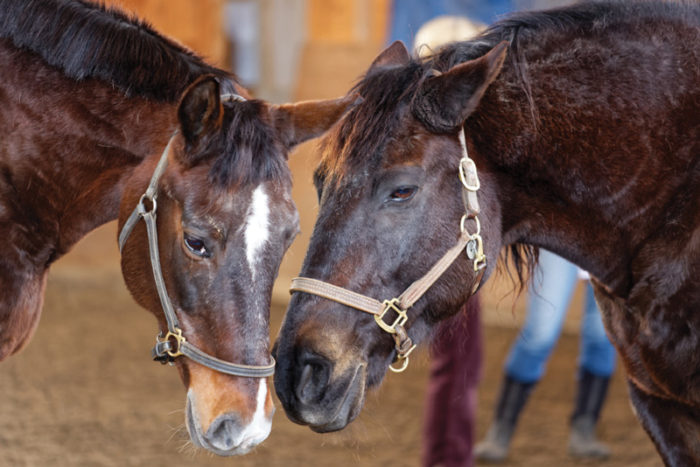 "Horses teach us that in a relationship, whether personal, professional or equine, leading with respect, tact, clear direction, and ease invites relaxation and mutual trust, essential for learning, developing, cooperation, productivity and high performance."


-Cynthia Paquette

WHY HORSES?
Horses are masters of communication and leadership – essential qualities of great teams. Interaction between horses and humans simulates workplace dynamics, providing a unique opportunity to develop essential soft skills beyond traditional practical training.