Carlisle Academy is fortunate to have a herd of steady and kind school horses who perform a variety of jobs, including pony club, hippotherapy, dressage, para-dressage, and recreational lessons. Please see their bios below.
---

Onyx, a beautiful Percheron/Morgan cross with a curly mane, is one of Carlisle Academy's long-time therapy horses. She works in the adaptive riding program as well as recreational, and is a seasoned competitor with Team Carlisle. Steady and patient, she loves to be groomed, as evidenced by the softness that comes to her eye when her students come for their lessons.
---

Maggie joined us at the end of the 2012 session and won our hearts. She has an eventing background and is sensitive to the aids, making her a favorite of riders. As a registered American Warmblood, she has proven to be a sturdy and steady mount for pony clubbers, para-equestrians, and adaptive riding students across the board. Say hello to the lovely Maggie Mae next time you visit; she is by far the horse of many different colors!
---

"Dudley Do Right" was born in 2007 and is a beautiful chestnut quarter horse. Dudley joined our program in 2017 straight from the Colby Sawyer Equestrian program. His been there, done that, attitude builds the confidence of our recreational riders whether at home or in the show ring and we are so glad Dudley and his "do right" attitude joined our team!
---
"Simon Sez" joined our team in the spring of 2017 and has hit the ground running in our sports program. Simon was born in 2007 and is a beautiful bay Appendix Quarter Horse. He is a steady dressage mount, eventer, and a wonderful para-dressage schoolmaster as well. His curious and loving personality has made him a favorite!
---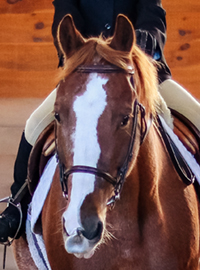 Keeker is a 14.3 pony cross owned by Carlisle staffer Kate Musk. Keeker is no stranger to the lesson horse world and carries each of his students with patience and pride. Keeker enjoys jumping and flat work with his recreational students and has become a steady presence in the Hippotherapy program as well.
---
Tupelo Honey is a 17-hand registered Rheinland Pfalz-Saar warmblood owned by Sarah Armentrout and used occasionally in the school program for advanced lessons and para dressage. Tupelo is a big-moving, sociable, talented horse who enjoys low-level jumping and dressage, and particularly enjoys time with his pasture mates.    
---
Rudy is a lovable and patient registered 15 hand Anglo-Arab with experience as a jumping and dressage school horse, as well as a competitive background in endurance. He was purchased in 2021 from the Richmond Family, and daughter and Carlisle coach Olivia Richmond is delighted to continue to teach with him.  Rudy is a fan favorite for students young and older in Pony Club and traditional lessons, and faithfully travelled to Pony Club Championships East in NC in 2022 to be part of the dressage team which placed 2nd out of 10 teams and represented the Maine horse contingent with Carlisle herd mate Clover.    
---
Crimson & Clover Clover is a registered Irish Sport Horse standing 15.2 hands high and full of heart and character. Clover was graciously donated to Carlisle Academy in 2021 by the Runser Family following the passing of Clover's owner Sarah Runser. Sarah's wish was for Clover to be involved in a riding school, sharing his good training and kind nature with children and adults alike. Clover has many adoring fans and is accomplished in dressage, para-dressage, and jumping. In 2022 he joined herd mate Rudy at the Pony Club Championships East in NC in 2022 to be part of the dressage team which placed 2nd out of 10 teams.    
Facilities
Carlisle Academy operates out of Spring Creek Farm in Lyman, Maine. The farm is located on 150 acres of lush pastures, rolling fields and wooded trails. To visit the Spring Creek Farm Facilities page, click here.